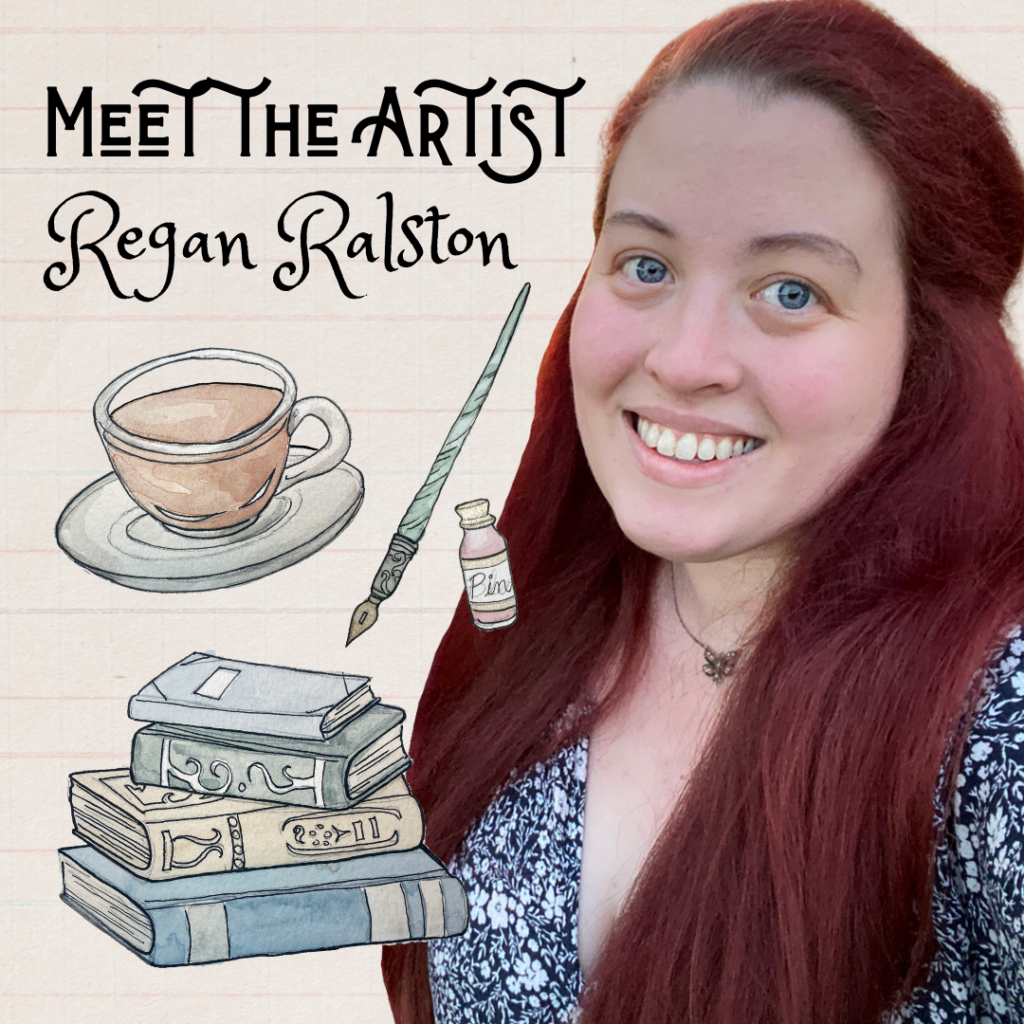 Regan Ralston is the artist behind Water of Whimsy, creating watercolor works imbued with everyday magic and mysticism. She resides in Ithaca, NY with her husband, Reid Ralston, and two loving dogs, Honey & Zuzu.
There and Back Again: Regan's Tale
Having been taught watercolor by her grandmother ("Nana") at a young age, she continued to explore art in all its forms through adolescence. While attending Indiana University, in Bloomington, Regan pursued a minor in visual arts. Her studies culminated in a senior year studio course taught at the Griffy Woods Research & Teaching Preserve, which concluded in an exhibit entitled "Meandering Landscapes," hosted by the Fuller Projects.
While at university, Regan received a Bachelor of Arts degree in English and Liberal Arts & Management, through the English Department and the Kelley School of Business. With her combined course of study, Regan began to triangulate her interests between literature, imagery, and the cycles of nature. Some of her favorite courses included the Griffy Woods studio, Children's Literature, and three subsequent lectures on Shakespeare's works. Often referring to her time at IU as a "green space," she imagined the land of learning akin to Arden's forests full of liminality and legends.
After graduating, Regan moved with her husband to Ithaca, NY, where they've resided for the past five years. A town full of 'castles,' deep lakes, and dark wines, Regan immediately fell in love and found herself drawn to ideas of folklore and history. While working in town as a marketing manager for a small nonprofit, Regan continued creating artwork in her free time, selling occasional originals through her Etsy shop that was at that time coined "Water of Whimsy."
During the 2020 Covid-19 pandemic, Regan found herself out of work for the summer. With the support of her husband, she was able to devote considerable time to the pursuit of art and development of her craft. In June of that year, she began her first successful series: "Witch Aesthetics." In this series, Regan explored the unique features of modern witchcraft paths and their corresponding personality traits.
As of this year, 2022, Regan has continued to create full time, with her artwork reaching hundreds of thousands of viewers annually. Her current areas of interest include pagan folklore and practice; mythology; and a continued love of "practical magic."